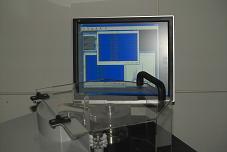 Classification by noise testing is a widely
established and accepted procedure for quality
inspection in production.
Automized noise testing of parts can detect what
leads to irritating noise in the component before
it is assembled. Defetcs of the part as well as
missing steps in the manufacturing process can
be identified within seconds.
The evaluation is capable of configuring a wide
range of classes for validation. This enables you
to track trends in favour of preventive
maintenance. Furthermore the time between
installation and start of production can be
significantly reduced.